April 24, 2019
Plant-based Diets for Kids Part 1: Are vegetarian and vegan diets safe for children?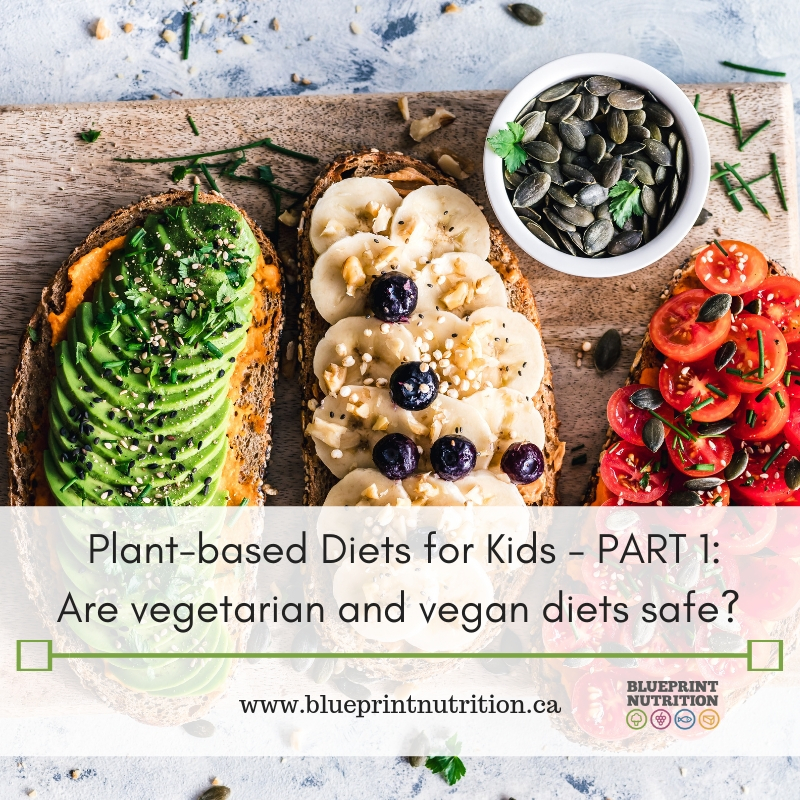 Welcome to the first of a 3-part blog series on plant-based diets for children. There is SO much to cover on this topic that we couldn't possibly do it justice in one post! Today's post will look at the various types of vegetarian diets, the health benefits of following a plant-based diet, and whether vegetarian and vegan diets are considered a safe and healthy pattern of eating for children.
If we don't answer your question in this post, please assume that we will cover it in #2 or #3!
Questions? Comments? Please leave us a message below.
---
I have heard of "Plant-based" diets … but what does that really mean?
If you're a dietitian reading this, you too, like me, might be slightly irritated with the multiple meanings that have been associated with the term "plant-based". Over the past few years, this word has been hijacked to most commonly describe a vegan diet, however, that's a misrepresentation of its true meaning.
A plant-based diet refers to a pattern of eating that focuses on foods primarily from plants but can also include foods from animals. It does not necessarily mean that you are a vegan, rather, you choose most of your foods from plants.
Before we move further, I think it is important for us to understand the differences between the various patterns of plant-based eating. Let's take a look at some of the most common types.
Predominantly plant-based

There is no standard definition for this term. It is commonly used to describe individuals who mostly eat a vegan diet but who may (or may not) consume animal products on an infrequent basis.

Flexitarian

There is no standard definition for this term either. Recently, it has been used to describe those who eat a mostly vegetarian diet but occasionally eat meat. Many who identify as a flexitarian have given up red meat.

Lacto-Ovo Vegetarian (LOV)

A LOV vegetarian avoids meat, fish and their products but will include both dairy products (i.e. milk, yogurt, cheese) and eggs.

Ovo Vegetarian (OV)

An OV vegetarian will avoid all meat, fish and dairy products but will consume eggs.

Lacto Vegetarian (LV)

A LV vegetarian will avoid meat, fish and eggs but will consume dairy products, including milk, yogurt and cheese.

Vegan

Vegan diets exclude all foods from animals including meat, fish, dairy, eggs and honey. Many vegans also engage in a vegan lifestyle which includes a reverence for all life and taking a stand against animal cruelty. There are various types of vegan diets including raw food vegan, fruitarian etc. Not all variations of a vegan diet are appropriate for pregnancy, infants and children.

Vegetarian Macrobiotic Diet

Based on Eastern philosophical principles of yin and yang, this diet is tailored to meet the needs of the individual. It generally avoids meat, poultry, animal fats, eggs, dairy products, refined sugars, artificial sweeteners and chemical additives.
Even within the plant-based diets listed above there can be significant variation in the foods that are or are not included – i.e. a raw food vegan will only eat raw food (not cooked).
It is also important to remember that studies do not use the same definition for a "vegetarian diet". If you're reading articles (or googling info), be sure to scan the fine print as results may not be as applicable as you think.
To plant-based parents out there – please make sure that you fully explain your child's pattern of plant-based eating to your doctor and/or dietitian so that they can tailor their advice to best fit your child's needs.
Are there health benefits (or harmful effects) for children consuming a plant-based diet?
We're not certain but early research suggests there are more health benefits for children than harmful effects. Why such a wishy-washy answer? Because there are very few good quality research studies looking at the long-term health benefits for plant-based infants and children.
Case in point – a recent 2017 systematic review looking at vegetarian and vegan diets in children was unable to draw firm conclusions. The studies available were poorly designed, had very small sample sizes, were biased towards the upper social classes, and many of them were from the '80s and '90s. Alas, the inherent flaws with nutrition research, of which I have spoken about before!
Considering the poor data, the authors concluded that there were minimal detrimental effects and potential health benefits for children following a vegetarian diet. Some of those positive outcomes included improved cholesterol and antioxidant levels, higher fibre intake and lower risk for overweight.
We can look to studies of adult vegetarians and vegans to see general trends for plant-based eaters. This overview analyzed data from eight prospective large scale studies and found that the long-term health of western vegetarians and vegans is good, and may be better than that of comparable western non-vegetarians for some conditions and diseases. For example:
BMI: vegetarians have lower BMIs (1-2 kg/m2) than non-vegetarians

Type 2 Diabetes: vegetarians and vegans have a 50% lower risk of developing Type 2 diabetes

Cancer: risk for cancer is only slightly lower in vegetarians

Cholesterol: lower cholesterol in vegetarians (decreased LDL ('lousy' cholesterol) and increased HDL ('happy' cholesterol))

Bone mineral density: varies – similar for vegetarians vs. non-vegetarians but fracture rates higher in vegans

Other: vegetarians and vegans have decreased risk diverticular disease, eye cataracts and kidney stones

Mortality: similar for vegetarians/vegans vs. omnivores …

(I guess we all have to die some day!)
Plant-based eating is on the rise in Canada
According to a recent study from Dalhousie University released July 2018, approximately 10% of the Canadian population follows a vegetarian or vegan diet, of which 2.3 million consider themselves vegetarian and 850,000 follow a vegan diet.
Of this 10% of vegetarian/vegan eaters, more than half are under the age of 35 and presumably feeding their children a similar diet, although we don't have any firm data to verify that. Needless to say, if you are raising plant-based kids, you are not alone. And if you are looking for more like-minded peers, you are more likely to find them living in larger metropolitan cities in Ontario or British Columbia.
With the recent revision of our National Food Guide in 2019 and the recommendation to consume more plant-based proteins, my prediction is that we will see this 10% statistic going up over the next few years.
Is a vegetarian or vegan diet a healthful pattern for infants and children?
Let's tackle this question head-on!
This is hotly debated amongst leading international health authorities. Much of the contention surrounds the appropriateness of vegan diets for babies and young children. (Some of us might recall the story of this Italian lawmaker who wanted to criminalize placing a child on a vegan diet and subject parents to time in prison).
National nutrition and/or pediatric societies have released position papers on the topic of vegetarian and vegan diets for all ages, including children. Before we move further, let me clarify that a position paper is a paper which reviews the evidence, in this case, for vegetarian and vegan diets, and then presents an overall stance or opinion on the best practices for that particular topic.
Here is what a few of them have to say on this topic.
The Canadian Pediatric Society released their statement in 2010, which was reaffirmed again in 2018, and they conclude that:
"Well-planned vegetarian and vegan diets with appropriate attention to specific nutrient components can provide a healthy alternative lifestyle at all stages of fetal, infant, child and adolescent growth. Appropriate education of the family and follow-up over time are essential…"
The Academy of Nutrition and Dietetics (U.S.) updated their statement in 2016 and continues to agree with Canada's position on the topic:
"…appropriately planned vegetarian, including vegan, diets are healthful, nutritionally adequate, and may provide health benefits in the prevention and treatment of certain disease. These diets are appropriate for all stages of the life cycle, including pregnancy, lactation, infancy, childhood, adolescence, older adulthood, and for athletes…"
The Italian Society of Human Nutrition's position paper on vegetarian diets reads similarly as well:
"Well-planned vegetarian diets that include a wide variety of plant foods, and a reliable source of vitamin B12, provide adequate nutrient intake."
However, when we compare those with the European Society for Pediatric Gastroenterology Hepatology and Nutrition's (ESPGHAN) position paper on complementary feeding for infants (released in 2017) they indicate that:
"Vegan diets have generally been discouraged during complementary feeding …Risks of failing to follow advice are severe, including irreversible cognitive damage from B12 deficiency, and death… If a parent chooses to wean an infant onto a vegan diet, this should be done under regular medical and expert dietetic supervisionand mothers should receive full nutritional advice… "
And in a year earlier in 2016, the German Nutrition Society (DGE) concluded that:
"The DGE does not recommend a vegan diet for pregnant women, lactating women, infants, children or adolescents. Persons who nevertheless wish to follow a vegan diet should permanently take a vitamin B12 supplement. They should receive advice from a nutrition counsellor and their supply of critical nutrients should be regularly checked by a physician."
So what's the verdict? Are they or aren't they safe?
At Blueprint Nutrition, we concur with the Canadian Paediatric Society and other bodies who believe that vegetarian and vegan diets that are inclusive of a wide variety of foods are safe and healthy patterns of eating for men, women and children of all ages and stages, including pregnancy and infancy.
However, as noted by many of the position papers:
"We believe that it is imperative, especially when following a more strict vegetarian or vegan diet to seek out expert counsel from a registered dietitian who specializes in pediatrics and plant-based eating to understand which supplements are required and how much to take to ensure adequate nutrient intake and minimize risk of serious health complications.
(Yes, we are a "food first" practice, but there are mandatory supplements that your children will need, especially if following a vegan diet).
What are the nutrients that we need to be concerned about? Glad you asked – stay tuned for Part 2!
Take it one bite at a time,
Rosanne
Book an Appointment
Nutrition advice you can TRUST! We will help you build a blueprint for your BEST health … one bite at a time!
FREE weekly meal planning template
Grab a copy of the tool that keeps our families eating well all week long.
Subscribe to our informative monthly newsletter and receive our FREE weekly meal planning template.
No lifetime commitment needed here folks. You can unsubscribe anytime!