October 14, 2016
The Baseball Munchies with a side of Kale Chips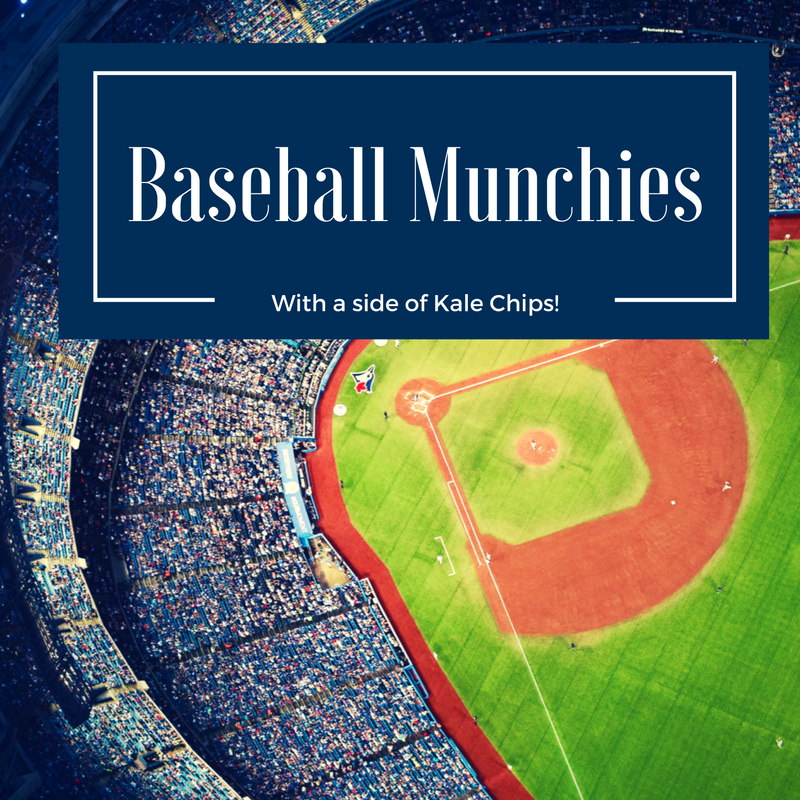 October baseball is here!
It's a very exciting time of year in our house as we anticipate watching the ALCS finals starting today with the Toronto Blue Jays vs. the Cleveland Indians. I have no doubt that there will be numerous gatherings at homes, restaurants or pubs to watch the showdown from across our nation, which means that food, inevitably, will be involved! But what are you going to put on your plate?
---
Meeting up at a restaurant for appetizers?
Let's look at a few popular appetizers commonly found on the menu at chain restaurants, where you just may find yourself this weekend during the baseball playoffs. There are some decent choices but there are also a few to pass by, unless of course you are sharing with 10 other people!
1. Fries (or poutine) anyone?
Crabby Joe's Loaded Cheese Fries: As described in the menu … "Joe's fries topped with melted mixed cheeses, bacon, green onions, ranch dressing and sour cream." The damage?!
1257 calories … That's the same calories in TWO x 10 oz servings of prime rib at the KEG!
89 grams of fat … That's the same fat in THREE servings of escargot at the KEG!
2992 mg sodium … That's 130% of the upper limit of 2300 mg of sodium per day!!!
The healthier alternative appetizer at Crabby Joe's? Try the Feta Bruschetta. Bruschetta is one of my personal favs! One serving will put you back only 335 calories, 21.6 grams fat, and 691 mg sodium. Still way too high with the sodium but a huge savings from the fries nonetheless!
2. Macho Nachos!
Ooey Gooey Cheesy Nachos!
Jack Astor's Macho Nachos: They must be macho because there is no description of them listed in the menu! Too macho to have a write-up I guess! Whatever is loaded on them, these babies will cost you!
1547 calories … You would need to swim laps for 100 to 150 minutes to burn this off!
82 grams fat & 36 grams saturated fat … Or you could have 5 Tablespoons of butter for the same amount of saturated fat!
4,143 mg sodium … AHHHHH!!! This is essentially TWO DAYS' WORTH of salt!!!!!
The healthier alternative appetizer at Jack Astor's? Try the Tuna Poke. It's described as "Diced Ahi tuna with sweet chili, sesame, soy, ginger, lime, crisp wontons and wasabi furikake." One serving is 315 calories, 9.9 grams fat (2.3 grams sat fat), and 902 mg sodium. Again, still WAY TOO MUCH SODIUM but a huge calorie savings of 1232 calories. Think of that as an extra $1232 in the bank that you can spend on something else!
3. Classic chicken wings
Real Sports Bar and Grill. I've never been here myself but it certainly sounds like a real sports fan's heaven! It boasts a 39-foot HD big screen TV, as well as 199 HD TVs throughout the bar, not to mention the 126 draught taps, 10+ flavours of chicken wings and 5 gourmet burgers.
All of this conveniently located right beside the Air Canada Centre, so you don't have to go far from there to watch the Jays live in action! Or maybe that's not such a good thing if we are hoping to burn off some of the calories before the game…
Back in 2013, the Toronto Star did a reveal on this restaurant's most popular appetizer, the Thai Sweet Chili Wings, which are described as a dish of 6 chicken wings served with some veggies and dipping sauce. The Star sent this dish of 6 wings and the accompanying celery stalk, 2 carrots, 1 radish and dipping sauce to an independent laboratory for analysis.
Wings and baseball are like two peas in a pod … except nutritionally, they are nothing like peas 🙁
For 6 wings (count 'em, 6!) and the few veggies and dip, here were the results:
Calories: 1,308
Fat: 93 grams
Sodium: 2,290 mg
Carbohydrates: 56 grams
Protein: 60 grams
For the same number of calories, you could have almost 5 grilled chicken burgers at Harvey's. And what's with the sodium?!? These 6 wings just cost you your entire day's worth of salt!
And worst of all, does anyone only order 6 wings and call it a night? Likely not. This may only be the start of an evening which may end up at well over 3,000 calories!
If you are hoping to save yourself from running a half or full marathon the next morning, here are a few suggestions when ordering appetizers:
Share with a friend, or a whole table of friends!
Have a good dinner before you meet up so that you aren't as hungry when you get there
Ask for a pitcher of water at the table – you will likely need to after all that salt!!
Why not order something off the main menu vs. an appetizer? You will likely find some other healthier options that are easily shared with friends too.
Skip the appetizers, stay in and make some of my recipes below!
---
Staying in? Try some of these easy appetizers!
Okay, so I have scared you from ever eating out in your life again. My apologies. That certainly wasn't my intention. Well, maybe I wanted to scare you a little, or enough that you think twice before making your next selection on game night.
For those of you opting to stay in for any number of reasons (cost, no babysitter available, can't even think of getting out of your track pants on a Friday night) no worries! You can have a good time too with a budget-friendly, easy to prepare and tasty menu!
1. Swap your regular chips for kale chips.
No, I am not joking and you will thank me for this!
Super cheap, super easy, super delicious … not to mention super duper loaded with nutrition!
Here is some of our Kale which continues to grow in the garden. It still does well after the frost, so keep it in the ground!
And this is how it's done!
BLUEPRINT's KALE CHIPS RECIPE:
You will need: 1 bunch of kale, extra virgin olive oil, seasonings (salt, pepper, etc.)
Buy a bunch of kale. Wash leaves and shake off any excess water.
Cut out the woody middle stem. Rip or cut leafy parts into larger "chip size" pieces.
In a large bowl combine kale pieces with 1-2 Tbsp of extra virgin olive oil. The key here is not to be too chinsy but not to coat too much or else they taste gross! If you need more oil, add in 1 tsp increments or so.
Add desired seasonings! Salt, pepper and a pinch cayenne – you can get creative!
Place on a baking sheet lined with parchment paper or I find you don't need to line it if you are using a clay pan (i.e. Pampered Chef pan).
Bake at 300 F for 10 minutes. Rotate pan. Put in for another 5 min or so. Check often.
Let chips dry on baking sheet for a few minutes before removing.
EAT! Best eaten the same day that they are made … if they last that long!
BEFORE… AFTER…
I wish I had a picture of my toddler and son eating these with green residue all over their faces and all over the floor! They are a great way to introduce this leafy green superhero vegetable to kids!
2. Good old fashioned popcorn. Nuff said.
Just popcorn. Easy peasy. No recipe needed!
Why not brush the dust off your good old friend the air popper! It's easy to add some popping corn, pop and enjoy!
3 cups of air popped popcorn gives you:
92 calories … so you could have 40 cups of popcorn or a plate of loaded cheese fries?!
1 gram of fat … not sure that was even worth mentioning!
18.7 grams of carbohydrate … of which 3.6 grams are fibre! Yah Yah!
1 mg sodium … hahaha! Take that macho nachos!
3. Make a healthy dip platter!
Guacamole, hummus and salsa pair so well together!
In fact, you don't even have to "make" it if you don't want to! Watch this!
Buy a jar of salsa. Dump into serving bowl.
Buy a container of fresh hummus. Dump into serving bowl.
Buy a container of fresh guacamole. Dump into serving bowl.
Serve with whole wheat pitas cut into triangles and/or whole grain tortilla chips and a variety of fresh cut veggies.
I personally, LOVE LOVE LOVE homemade salsa, guacamole and hummus but if you don't love to cook you can still eat healthy! Store-bought options are available for these in many different varieties. And if you put them into some nice serving bowls, no one will even know!
And with that, I will say Happy Friday and Go Jays Go!!
Cheers,
Rosanne
References:
Nutrition information for the above article was retrieved from the following websites:
Book an Appointment
Nutrition advice you can TRUST! We will help you build a blueprint for your BEST health … one bite at a time!
FREE weekly meal planning template
Grab a copy of the tool that keeps our families eating well all week long.
Subscribe to our informative monthly newsletter and receive our FREE weekly meal planning template.
No lifetime commitment needed here folks. You can unsubscribe anytime!